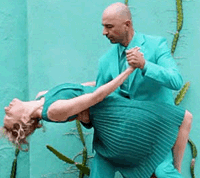 The latest installment of Packaged Goods at the TIFF Bell Lightbox features works directed by women, with short films, TV ads, music videos and animated shorts comprising the roughly 60-70 minute programme that's become a bi-monthly series.
Curated by Rae Ann Fera, the series has featured themed programmes on gaming, interactivity, the year's best, and 3D films (not to mention the upcoming spotlight on editing), and while some be critical of a gender-specific spotlight, there's a simpler way to approach Girls on Film: just watch them.
Pretty much seconds into any production within GOF, the gender and ethnicity of a filmmaker pretty much go out the window; either the film works, or it falls flat on its face, and in none of the selections does gender matter because it's always the story, style, and message that matters. Women directors are under-represented in commercial production, but the curated samples of their work simply reinforces the quality of work that exists in all spectrums – artists just have to be considered for their skills instead of gender.
Perhaps the cleverest aspect to the series is the interpolation of animated shorts among flashier components like music videos and glitzy ads, and the most memorable is Kirsten Lepore's "Bottle," which becomes extremely touching once 'bottled' cultural exchanges between anthropomorphic sand and snow figures separated by an ocean develops into a friendship, kinship, and hunger to physically meet. It's a beautifully little story, and Lepore's storytelling is carefully nuanced, gradually adding details to her characters until the moving blobs of snow and ice are almost human.
Julia Pott's "Belly" is equally impressive for its outright surreal style, and peculiar story where a youth learns to let go of a best friend in order to rescue his brother. That's pretty much all one needs to know, since the moral tale is a metaphor for all kinds of child, teen, and adult issues with parting from someone (or some thing), be it a teddy bear, a toy, a favourite sweater, or a relationship that's holding things back.
Among live action shorts, Jessica Edwards' "Seltzer Works" is a compact yet informative little portrait of a slow-dying business – the packaging of seltzer water – that used to be hip & common & fondly regarded until bottled fiz by soft drink companies stole the thunder (or, er, fizz). Edwards makes great use of the small factory's innards, filming a bevy of mechanical details and intercutting movement and machines with straight docu commentary by the owner of Gomberg's Seltzer Works, who describes a product once enjoyed by generations. As he amusingly quips, valve-sealed seltzer "should hurt the back of your throat," not tickle the way screw-cap soda water does.
Elisha Smith-Leverock's "I Want Muscles" is a similarly compact portrait of female bodybuilder Kizzy Vaines, and the camera is exclusively trained on Vaines' in a small set, with blazing red colours giving off a plastic seventies style, and a risqué, aurally erotic end credit sequence
The Onion's "Missing Friend" is a spoof of morning talk show crap where two teens keep digressing from pleas to their missing friend to come home to trash-talk gossip.
The music videos are (naturally) clever, with OK Go's "Skyscrapers" comprised of two ballroom dancers (see teaser pic at top) moving through two-tone panels with matching outfits; Broken Social Scene's gory "The Sweetest Kill" fixating on amputations, and writhing in rose garden topsoil after a fresh burial; Rat v. Possum's "Fat Monk" applying Busby Berkley choreography to practical kaleidoscopic patterns and movements (with an unsubtle nod to the old 20 Minute Workout series); Gotye's "Somebody That I Used to Know" using body painting to accentuate the world's worst breakup; and Breakbot's "Baby I'm Yours" which combines rotoscoped performance footage with psychedelic colours and animation reminiscent of Ralph Bakshi and Sesame Street countdown and alphabet vignettes.
The last two stars in the series of shorts (which span 1-8 minutes) are Kathryn Bigelow's "Surf" ad for Chanel, where a surfer comes as close as biologically possible to merging with ocean water; and HTC's ballsy ad for their new mobile phone. Titled "One, Freefall," it chronicles the filming, editing, and uploading of an ad using the phone's HD camera from the time the camera crew & cast leap from a plane and land on desert soil. The making of Sara Dunlop's video is online, as are further details of HTC cinematographer Nick Jojola.
Packaged Goods: Girls on Film screens Wednesday June 13th at 7pm at the TBL, and will featuring directors Yael Staav, Claire Edmondson, Aleysa Young, and Kathi Prosser for a post-screening Q&A.
Part of the fun is seeing these shorts on the big screen instead of the idiot box and online, and in my podcast interview with curator Fera, we discuss the series genesis and characteristics that make this bi-monthly showcase so unique.
Mark R. Hasan, Editor
KQEK.com ( Main Site / Mobile Site )
Category: EDITOR'S BLOG, INTERVIEWS