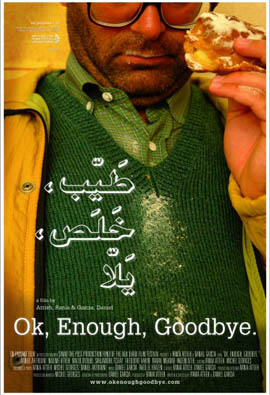 Postwar Lebanese film is showcased at the TIFF Bell Lightbox this week from Thursday June 14 – Sunday June 17 via 8 feature films and 7 shorts, spanning dramas and comedies from a country whose films are sparsely represented on home video.
Just uploaded is a review of OK, Enough, Goodbye / Tayeb, Khalas, Yalla [M] (2010), described as a dry coming-of-age comedy in the publicity materials. More pale dry and absurd (the trailer takes minimalism to its extemes), it's a peculiar film that might leave a few baffled by its strange mix of humour, drama, and minimal conflict, but it has a strange tone that's weirdly hypnotic at times.
Certainly in western media, Lebanese culture is generally reduced to grim news reports, making the TBL's short series Once Upon a Time, Lebanon: Visions of Postwar in New Lebanese Cinema a treat for its rare glimpses into the humour and drama as expressed by native filmmakers.
.
.
Mark R. Hasan, Editor
KQEK.com ( Main Site / Mobile Site )
Category: FILM REVIEWS