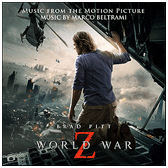 Running in the October issue of Rue Morgue magazine is my profile of Marco Beltrami, one of the top composers working in horror and suspense films.
Back in 1996, a friend dragged me to see some Wes Craven flick called Scream, and instead of it being another blah Craven entry with 'shock' dream & nightmare sequences which later repeated themselves for the film's finale (and padded the running time to feature length), the film ended up being a pivotal work that reinvigorated the slasher film with sly humour, decent shocks, and a rousing score by a newcomer named Marco Beltrami.
Amazingly, it took more than a decade for the soundtrack to get a (legit) release on disc – most Weinstein-produced films tended to either never get a CD release, or were supported by those classic 'music from and inspired by' bullshit concoctions, courtesy of the marketing and music licensing departments of assorted corporate entities – but what followed in the wake of Scream's theatrical release was a promo disc for the Beltrami-scored series Land's End (1996), a show very few remember because it died very fast on TV.
The aforementioned works for film & TV showed two sides to Beltrami: someone really well-versed in big-scale orchestral writing (and this is before is stunning Mimic), and a writer equally comfortable using contemporary sounds with rock, electronics, ethnic instruments, and sense of humour.
Several of the composer's early scores – Scream and Mimic especially – concluded with little songs derived from the film themes plus tongue-in-cheek lyrics; these were played over the End Credits.
Beltrami has written music for other genres – comedies, dramas, TV productions – but it's for horror, sci-fi, suspense, and action for which he's best known, much like his mentor, Jerry Goldsmith.

In our podcast conversation, we discuss the zombie and action genres, Goldsmith, collaborator Buck Sanders, and those End Credit tunes.
I've also added CD [M] (Warner Bros. Music) and Blu-ray [M] (Paramount Home Video) reviews tied to his latest work, World War Z, plus a review of the soundtrack to Resident Evil 6 [M] (Sumthing Else), the latest entry in the popular video game franchise.
One caveat: most of my podcast interviews are done via Skype (the medium offers superior sound),  but there is the odd time when an interview can stem from a phone connection, which, under ideal circumstances, can sound fine. However, sometimes issues of connectivity, distance, or gremlins come into play, affecting the fidelity to the point where a lot of work is required to literally bring out intelligible voices.
I'm well versed in dealing with challenging audio – I was the sound guy in film school – and there's only been one phoner which proved so difficult to restore that its publication had to be scrapped. The current podcast isn't as severe, but it took a good 6+ hours of standard editing plus more extensive cleaning to balance both voices into an intelligible conversation. This is why I'm one of Sound Forge's biggest fans; it takes some trial & error, but with a layered approach to EQ'ing and filtering, it is possible to work some minor miracles.
In 2014 I'll actually set up some demos featuring before / after samples, and if you require any cleaning or editing of voice audio, I can offer those services, because I think I'm pretty good.
.
*  *  *
.
Somewhat related: the good folks at The Black Museum have let me post a Reading / Viewing / Listening list of the resources I used for my giallo soundtrack lecture, Black Glove Ballads. It's in the blog section, where I'm pictured wearing my classic Raised Eyebrow Mug #12 – a marked improvement over #11, which seemed a bit too 'meh' for most film music connoisseurs.
(For a review of the lecture, check out Dan Gorman's comprehensive tally at Modern Superior.)
The lecture's resource list has links to reviews and Amazon.com listings, and one very helpful book, Mikel J. Kloven's La Dolce Morte (2006), from Scarecrow Press. When I originally bought the book, the publisher's pricing for trade paperbacks hovered in the mid-$20 range, but something clearly happened in the intervening years because it's now almost double in price. What's listed on Amazon and at the publisher's site is in fact the current list, and I can only assume they've chosen an academic price point.
I worked for about 8 years in the book selling industry, and was very much present when Chapters sent a mass of returns to distributors, the publishing world kind of imploded, Canadian pricing went through the roof as our dollar almost tumbled down the toilet, and consumers scaled back book buying as pricing went crazy.
In 1987, a mass-market paperback was under $4, a trade between $12-20, and a hardcover in the low teens to high twenties. It went to Hell for a while during a steep climb around the mid-199s, and while deep discounting and a stronger dollar have helped bring down the cost of books in Canada, in most cases the list cost of a single book title stayed the same unless it was reprinted. New cover art or not, that tended to be the average situation.
McFarland Books, which, like Scarecrow, carries an excellent roster of special subjects books, used to be known for having some premium pricing on their film books, so perhaps the latter publisher felt their standard was identical, hence the academic pricing. They may also have adopted a high list to enable, and to compete with, online bookshops and their own deep discounts.
Around 2001, my old employer regularly shaved 10% of the list, and I think they extended that to a higher discount a few years later. Another major seller would knock off a chunk from a $45 or $50 hardcover – a move that essentially priced a book to what was more reasonable, if not closer to a more realistic price for buyers on a budget.
What's likely here is that a higher list allows Scarecrow to run seasonal and themed specials and apply their own 30% discount – Kloven's book is actually on sale until the end of the month as part of a Halloween special – making their pricing much more appealing if your book buying budget is slim. (Their shipping rates, however, are very low: $6 flat rate for the first book to Canada, $1 each additional book. One glaring oddity, though: eBooks are $1 less than a physical book. Why so steep for a digital copy?)
Coming next: Review of last week's Goblin concert at The Opera House, plus the 12" EP record sold at concert venues.
.
.
.
.
Mark R. Hasan, Editor
KQEK.com ( Main Site / Mobile Site )
Category: EDITOR'S BLOG, FILM MUSIC, FILM REVIEWS, INTERVIEWS