Just uploaded a pair of films showing in slightly different degrees the finesse of actor Robert Redford, whose longevity spans more than 50 years acting, directing, and producing films – not to mention co-founding the Sundance Film Festival.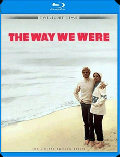 As an elder statesman of the film industry and perhaps seen more as a living legend and director these days, it's easy to forget the power Redford had in delivering what seem like easy performances.
Applying a style that's restrained, subtle, and possessing a careful awareness of screen persona, when Redford's great – as in All the President's Men (1976), with those mouthfuls of dialogue and long takes – he's riveting; and when he's ostensibly the pretty boy to Barbara Streisand's affection in 1974's The Way We Were (Twilight Time), there's still a range which most attractive actors might not have been able to pull off.
Ryan O'Neal may have looked the part, but his blandness would've killed any sense of seething passion between the film's two unlikely lovers, and as odd as the film's structure may be, it's still a fluid story which takes a peculiar diversion towards the terrible frictions of the Red Menace scare that resulted in the House of Un-American Activities (HUAC) hearings.
Flash-jump to 2013, and 40 years later Redford at the age of 77 pulls off a solo work in All Is Lost (eOne), playing a sailor struggling to stay alive as his punctured boat is smacked by every kind of bad luck. J.C. Chandor's direction is taut, and there's virtually no dialogue.
Some may find the sailor's stoicism too refined, but early into the film Chandor and Redford establish the sailor as a man to thinks, reacts decisively, and hopes he doesn't get fucked any further by Mother Nature. Naturally, things go very bad, and it's a great little performance piece sure to boost the film's status as a small cult film.
Although a wholly different kind of movie, the fifties 3D noir Inferno (1953) shares some similarities in its central story of a wealthy businessman struggling to stay alive in the desert after being left for dead by his cheating wife and her lover. Director Roy Ward Baker does cross-cut now & then between the wife who's it living it up with the boy-toy, and the left-for-dead husband (Robert Ryan), but Inferno's also a great performance piece in which a character uses his wits to survive, and learns from his painful mistakes.
A key difference between the two approaches to individuals acts of controlled survival is Ryan's thoughts which are shared with the audience in a narrative track; jump ahead 60 years, and one can see how audiences have matured to the level that as All Is Lost proves, if you trust the actor and focus on the visual details, dialogue can be wholly unnecessary. Drama and human behaviour are universal, especially on the big screen.
Now if only Twilight Time would get lucky with Fox and release a 3D version of a restored Inferno. Never heard of the film? Read the review, because it's a great little movie.
Coming next: a quartet of soundtrack reviews, followed by the site overhaul.
Cheers,
Mark R. Hasan, Editor
KQEK.com ( Main Site / Mobile Site )
Category: FILM REVIEWS