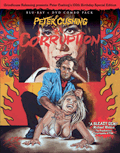 Grindhouse Releasing's Blu-ray-DVD combo edition of the little-seen, barely heard of shocker Corruption [M] (1968) demonstrates there was more to Peter Cushing than the wiry, gentlemanly Dr. Frankenstein or period role he was often cast by Hammer and its like-minded indie producers.
Although he reportedly took the role of a deranged surgeon who extracts pituitary glands to maintain his fiancée's damaged beauty because of its present-day setting, I wonder if he was fully aware that he would not only decapitate two women, but manhandle the blood-stained boobs of one unfortunate hooker.
Corruption slowly develops into a tale of made love and devotion, not unlike fellow crazy surgeon shockers Eyes Without a Face (1969) and The Brain That Wouldn't Die (1962), but being a product of the hip & swinging London scene, it's also augmented by brilliantly stylish visuals, and an often inappropriate jazz lounge score that adds to the vintage British fromage factor.
I've uploaded a review of what will likely be / should be a release nominated for a Rondo Award, because this is one of the best restorations of 2013, packed with a multitude of historical and contextual extras. It's a gorgeous 2K HD transfer, and Grindhouse should be extra proud of this lovingly assembled tribute to one of Cushing's sleaziest films.
Coming next: a review of the still not-on-DVD series Hammer House of Mystery and Suspense (1984), the last major TV production from the studio before it essentially shuttered itself for a while; a quartet of TV soundtrack albums; a pair of Tinto Brass naughties, and Twilight Time's gorgeous Blu-ray edition of John Ford's Drums Along the Mohawk (1939).
.
.
.
.
Mark R. Hasan, Editor
KQEK.com ( Main Site / Mobile Site )
Category: FILM REVIEWS