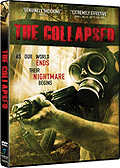 Just uploaded are a pair of Canuckle horror films from Anchor Bay Entertainment Canada – Justin McConell's supernatural woodsy thriller The Collapsed [M] and John Geddes' Civil War zombie epic Exit Humanity [M] – two local films shot in the GTA environs of Toronto, and featuring really pretty RED cinematography.
Also quick inthe news is Scorpion Entertainment's new Blu-ray of Death Ship, which features different extras (including an isolated score track!) from the Nucleus Region 2 DVD from a few years ago, and American Horror. I love the fact these films are being released in quality editions with care, but their release stateside and their availability as imports once again reinforces the inherent stupidity of Canadians having to import their cinema culture (good / bad / guilty pleasure) because the two main companies who seeminingly own everything made over the past 30 years by once independent companies don't give a damn.
Coming next: a review of the BBC documentary Harry Welcomes Arctic Heroes and a podcast with the show's composer, Lorne Balfe.
.
.
Mark R. Hasan, Editor
KQEK.com ( Main Site / Mobile Site )
Category: EDITOR'S BLOG