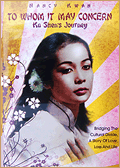 The arrival on DVD and Blu-ray of To Whom It May Concern: Ka Shen's Journey [M] (2010), Brian Jamieson's documentary on actress Nancy Kwan, is rather perfect for those who enjoyed her sensitive performance in Fate is the Hunter [M] (1964), because it answers several key questions: Who is this talented actress? And where the heck did she go by the mid-sixties?
In today's eyes, Kwan is an actress, but in 1962 when she debited in The World of Suzie Wong (1960), she was an Asian actress, and there was still a novelty in having a lead Asian role filled by a walking, talking, equivalent. It was still a long-standing fashion to have Caucasian actors dolled up in Asian makeup for major roles, and cast Asian actors in smaller roles, of not background parts, and it makes a number of once-popular films really tough to sit through because the convention is so bizarre today, or repugnant, depending on one's tolerance. I doubt I can ever sit through Teahouse of the August Moon (1956) because Marlon Brando looks inane playing a Japanese character, and Katherine Hepburn, in her inimitable performance style, playing Chinese in Dragon Seed (1944) is just plain silly.
Kwan didn't fall from grace or have a bad habit; Hollywood just didn't know what to do with her, her agent perhaps tried too hard to keep her in Hollywood productions than go for the more international route which may have offered better roles, and there was the personal tragedy of losing her son later in her life. Parents shouldn't watch their children wither away, but she and husband X did, and the helplessness and shock are part of the personal history which the doc ultimately focuses on in the second half.
As I said in the review (and this isn't spoiling anything), this isn't a conventional doc, and its scope is perhaps influenced by the myriad interview subjects which range from friends, family, and colleagues. More than likely, Jamieson's film will push some to seek out her work, but they'll be really disappointed to find very few films currently in print on DVD.
I'll have reviews of a select films, but it'll be just a handful, since the bulk films in which she co-starred during the sixties are nowhere to be found, except perhaps on TCM.
Coming shortly: a review of Twilight Time's new Journey to the Center of the Earth (1959) Blu-ray, and soundtrack reviews..
.
.
Mark R. Hasan, Editor
KQEK.com ( Main Site / Mobile Site )
Category: EDITOR'S BLOG, FILM REVIEWS