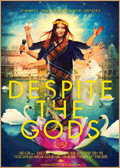 Jennifer Chambers Lynch is best known for three things: she's David Lynch's daughter, she wrote the best-selling novel "Laura Palmer's Diary" during her dad's Twin Peaks run on ABC, and she made Boxing Helena (1993) – a film so badly received that it pushed her away from making movies for 15 years.
It is easy to laugh at the concept of critical derision pushing a filmmaker into a state of massive inner doubt, but that's sort of what happened to David Lean when Ryan's Daughter (1970) was derided and Lean didn't make a movie until 1984 – the rather precious Colonial bore A Passage to India. Lynch is not Lean – I'm not saying that – but there are some filmmakers who can take the hits (Uwe Boll – a genuine clod) and still get up and make a film regardless of how much the critics hate them, or they just don't give a crap and make movies because it's part of their DNA.
Whether Jennifer Lynch will become an indie director of note is a crapshoot because Surveillance (2008) slipped onto DVD without any fanfare, and her third film, Hiss (2010), was released within South Asia in a producer's cut – which of course ought to make any making-of doc about Lynch in India directing a problem-plagued Bollywood horror/comedy/drama/musical an instant curiosity. Despite the Gods [M] isn't horrible, and Lynch doesn't come off as a shrill woman-child, but there are issues going on which director Penny Vozniak doesn't really address.
To the flipside, there's Jeff Orlowski's Chasing Ice [M] which really should be seen on the big screen, because the cinematography and sound design are superb.
Read the capsule review for further details as to why this enviro-doc and part bio on National Geographic photographer James Balog is so remarkable.
Coming next: James Franco IS Francophrenia (whatever that means).
.
.
Mark R. Hasan, Editor
KQEK.com ( Main Site / Mobile Site )
Category: EDITOR'S BLOG, FILM REVIEWS