It is not nice outside in T.O. today. I managed to get some fruits & vegetables, and 20 mins. under the sun may be the maximum time limit before human DNA is reduced to its original primordial goo state, which might be neat from a biologist's stance, but I'm not an egghead, and would prefer to remain composed of mostly solid matter.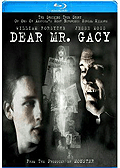 This week's been busy, so the next few days will yield a series of updates, of which the first is Dear Mr. Gacy [M] (Anchor Bay Entertainment Canada), which sounds like another exploitive direct to video serial killer shocker, but is actually a true crime drama based on Jason Moss' successful efforts to become John Wayne Gacy's pen pal
in order to gain trust and learn previously untold details of his killings for a thesis.
Moss was bold, brazen, perhaps egotistical, and Gacy undoubtedly appreciate the attention, to the point were Moss agreed to meet Gacy in jail close to the latter's execution date. I've uploaded a review of AB's Blu-ray, plus further links on this extremely weird case of over-ambitious research.
Coming next: Linda Blair in lockdown (agan?), soundtrack reviews, and a pair of themed Stanley Kubrick updates, featuring Warner Home Video's shiny happy Blu-ray transfers of Lolita (1962) and Barry Lyndon (1975) – both films proof positive that Stanley had a sense of humour. Dark as coal, but brilliant.
Stay out of the sun, but if you must enter the broiler, before leaving the house take a cold shower, line your pockets with pre-chilled ice cubes, and wear an ice bucket (preferably the one worn by Marlon Brando in Island of Dr. Moreau. Mini-Brando, face veil, fuddy-duddy British accent, and pretending to be a dolphin in the body of a mad scientist is optional).
.
.
Mark R. Hasan, Editor
KQEK.com
Category: FILM REVIEWS