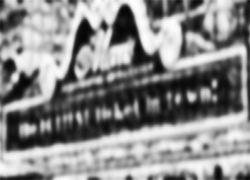 It's been a while since the last Abandoned Matinees post, though not due to a lack of new finds, but merely time, and a strange phenomenon known as Klathwathiusmus Constrictus, which actually causes the months to move beyond the Earth's rotation, pushing us from January to June. Pity the phenom is merely a freak of interstellar nature and cannot be harnessed to hasten moments of exceptional dullness.
The latest installment focuses on The Regal Cinema, which opened in August of 1932 in Camberley, U.K., under the ownership of the Robins Cinemas, then became an Odeon cinema, followed by the Cannon circuit until the idiot team of Golan & Globus overextended themselves, causing the collapse of their once potent indie company. (Jean-Claude Van Damme, Michael Dudikoff, Lucinda Dickey, and J. Lee Thompson could only do so much with Cannon scripts, you know.)
The Robins repurchased the cinema, and what was once a 1000+ seat single screen venue was twinned and tripled, uglifying the once beautifully exotic Art Deco building.
Most abandoned buildings tend to sit and rot, with passersby losing their curiosity and concern in favour of indifference, particularly when the edifice is part of a daily walk. To some, a dying building maintains an allure, and for urban explorers, an opportunity to check out the hidden and the forgotten knowing the wrecker's ball will likely raze the building into rubble very soon.
Here, for example, is a snapshot of the Regal in 1980, with its façade painted stark white, and rebranded as The Classic Cinema. Now note its present condition in the first image of this set, taken in April of 2010. Compare that with additional angles (3) which gradually reveal the fires which destroyed significant portions of its superstructure.
Now lets examine the interior in this detailed set, taken in August of 2009, which seems to precede at least some of the more damaging fires set by vandals. Note the projector (near end) which is still standing… and was likely toppled (images 12 – 16) by vandals prior to April, 2010.
It's a classic idiot teen moment preserved in pristine dust: 'Hey! Look! A still-standing large object that appears heavy! Let's make it fall over! Because if we can, it's all brilliant! 20 years from now, the memories of that great day will feel as good as buying our first legal beer!'
While the building was still erect as of January, 2011, the fencing and demolition signage are likely precursors to the end. Every city has had a building like this, dying slowly and coming to an ignominious end.
Pity.
.
.
Mark R. Hasan, Editor
KQEK.com
Category: EDITOR'S BLOG