Quick news updates before I get into a pair of reviews.
As part of two separate film series at the TIFF Bell Lightbox [TBL], Torontonians can ring in Canada Day weekend or Pride weekend with the colour red by catching Dario Argento's Suspiria (1978), coupled with Frederico Fellini's "Toby Dammit" sequence from Spirits of the Dead (1968) in the late afternoon, and/or Opera (1987) in the late evening.
If they're uncut, this may be proof a higher power exists, since Argento fans have been waiting decades (forever?) to see Suspiria uncut on the big screen. I blathered more with screening details at my Rue Morgue blog.
Next: with Blockbuster USA dying (which has been a 15 year odyssey, right?), it was inevitable its Canuckle counterpart would finally start to die, too. Whether someone is willing to buy the chain at a fire sale is really immaterial; the video rental chain concept is dead, and as I blathered at length in a prior blog, what will remain are indie, neighbourhood and/or boutique-styled shops. The downward slide has been going for a good five years, and the rental landscape will be quite different a year from now.
Bell and Rogers are also pestering the CRTC with anti-competitive whining about Netflix hogging more bandwidth than necessary, and they want it curbed. Really? People are using the internet more for music, film, and TV because the telcos wanted it that way, as a lead in to their own proprietary services. You guys started this mess, not consumers, so shut up and upgrade your gear, because we're not responsible for the behaviour and viewing habits you fostered.
Lastly, Steve Harper signed in the second-biggest cabinet in Canadian history. So much for small government. Among old cronies still tightly inside the PMO's inner circle is John Baird, upgraded to Foreign Affairs, and sure to deal fairly and decently with any further allegations of corruption or torture in Afganistan, because he's really a swell guy who just behaves like a bulldog; and Tony Clement, now in charge of Treasury Board, where he can move the largest bureaucracies to his home riding, because they have an extra ice rink, gazebo, and toilets to spare. Bev Oda also survives, and she's been given erasable ink pens in case she finds herself scribbling "not" too arbitrarily; and Maxime Bernier is back from the doghouse, although I hear he's not allowed to touch paper anymore after leaving classified documents at his ex-girlfriend's pad in 2008.
To paraphrase Homer Simpson, our government is s-m-r-t.
* * *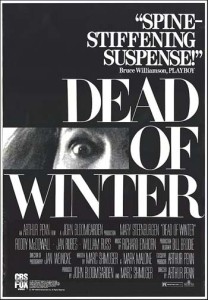 This spring marked a tribute to the late Arthur Penn at the TBL, and I caught The Chase [M] (1966) on the big screen, which marked a slight misstep before Penn hit stride with Bonnie and Clyde (1967). What followed were some interesting films, but by the late eighties he'd arguably lost clout or projects worthy of his talents, although perhaps his last good theatrical film was was the Grand Guignol shocker Dead of Winter [M] (1987), an uncredited film version of Anthony Gilbert's novel "The Woman in Red."
Shot in Canada with the wonderful Jan Rubes (of Guess What? fame, of which i still have his sing-a-along record some place), it transposed the basic story of a woman who takes a job and discovers she's part of a grisly murder plot. Roddy McDowall was quite creepy, and Mary Steenburgen did a solid job playing a woman who keeps looking for little flaws to exploit, and get some help before she's cooked.
Penn's version differs significantly from Joseph Lewis' 1945 version, My Name is Julia Ross [M], and in both reviews I address each film's pros (of which there are many). Whereas the '87 film is still available from MGM, the '45 version is still unavailable, but does get airings on TCM. Catch it and tape it, because it's a gem, and proves George Mcready was indeed once a young man. Still creepy, though.
.
.
Mark R. Hasan, Editor
KQEK.com
Category: EDITOR'S BLOG, FILM REVIEWS