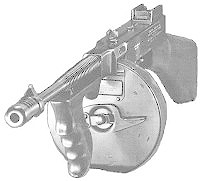 Like the prior installment, Part II deals with the second pair of gangster films in TCM's Prohibition Era set, this time spotlighting James Cagney.
The Public Enemy [M] had Cagney playing Tom Powers, a bad boy who gets into bootlegging and organized crime while his brother recovers from the horrors of WWII.
Tom loves his Ma, has loyal friends, and uses a grapefruit to silence his moll's incessant complaining at breakfast. But as with all psychopaths, the end must come, and his curtain call is an uncompromising shocker that caps a pioneering genre entry whose structure and template still work, 80 years later.
When Cagney made The Roaring Twenties [M] in 1939, he had pretty much been run through the genre machine by the studio, playing every configuration possible, and was ready to move on to comedies, dramas, and flag-waving musicals such as Yankee Doodle Dandy (1941).
In his final gangster saga of the thirties, he's Eddie Bartlett, a WWI vet who returns home, finds his job's been taken, and discovers the girl who wrote him during the war is a high school snot in knickers. Several years later he's found a solid career making, selling, and stealing booze, with solid professional relationships with two fellow veterans: a lawyer, and a psychopath named George, played by Humphrey Bogart before he shook off his skin of amoral slime and donned a slick suit and graduated to a romantic leading man in Casablanca (1943).
Naturally, Cagney can't play the same character as Tom Powers, but there are similarities which I've tried to neatly dissect and compare in a review. Even with the obvious parallels, The Roaring Twenties is solid entertainment, and while it might be lacking the pre-Code naughtiness of The Public Enemy, it makes up for it with pure verve, due to an outstanding cast, and solid direction from one of my favourite directors ever – Raoul Walsh, director of Objective, Burma! [M] (1945), one of the best action / war films ever.
Cagney would return to the gangster film in White Heat (1949), part of Warner Home Video's other TCM Gangster collection that I'll cover shortly, but both aforementioned films prove the resilience of the genre, regardless of the decade, or setting.
Guns, contraband and fast cars also figure in Christopher Rowley's Death of a Snowman [M] (Synapse), a 1976 gangster film from South Africa. Never heard of it? Neither had I, and while glaringly crude at times, there's something intriguing about this effort to make a standard genre film in Africa, with a mixed cast, grungy locations, and an early film score co-composed by Trevor Rabin (Armageddon).
In Part III, I'll cover another pair of vintage Warner Bros. crime thrillers, plus another recent South African gangster film. The Editor's Blog will also spotlight a pair of striking Johannesburg structures that were part of the skyline (to some extent) in these South African crime classics.
.
.
Mark R. Hasan, Editor
KQEK.com
Category: FILM REVIEWS