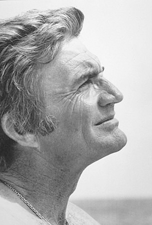 Writer / director / producer Blake Edwards passed away December 19 at the age of 88, leaving behind wife Julie Andrews, two children, and an extraordinary body of work.
I'm actually stunned he was 88, because his work tended to represent a youthful mind who liked to shock audiences with slapstick gags often inspired by classic French farce.
Best known for bringing Inspector Clouseau to the big screen and making Peter Sellers an international star, Edwards did have some major career highs and lows, and his comedies weren't for every connoisseur.
Edwards' had several career phases: during the fifties, he directed a handful of amiable audience pleasers, such as the romance Mr. Cory (1957) with Tony Curtis and Martha Hyer (a film deserving a proper DVD release) and the Cary Grant classic Operation Petticoat (1959).
His most significant break was Peter Gunn (1959), a detective TV series starring Craig Stevens about a cool, suave private detective surrounded by hot women, all cuddled in the sleek music of Henry Mancini.
By 1958, Mancini had scored several bug-eyed monster movies for Universal, plus Orson Welles' Touch of Evil (1958), but Gunn and the resulting pair of best-selling albums (and countless cover versions) not only established the composer's career as a hit single and film composer, but it inaugurated one of the longest composer-director associations in film.
Mancini's "Dreamsville," written for Peter Gunn, was often featured in Edwards movies, perhaps as a kind of good luck charm, and it's not an exaggeration to say Edwards was partly responsible for bringing sleek, easy listening jazz into vogue via TV and film. Their collaborations included the riveting thriller Experiment in Terror (1962), and the immortal theme for The Pink Panther (1963) which became the composer's signature music, if not Edwards' and Sellers'.
When at his best, Edwards was able to move between genres, as was the case with Experiment, Panther, the romantic comedy/drama Breakfast at Tiffany's (1961) and Days of Wine and Roses (1962) – a drama about alcoholism based on J.P. Miller's 1958 teleplay.
In 1967, Edwards made a film version of Peter Gunn (the character was dusted off again for a wan 1989 TV movie), as well as the insane The Party (1968), where a bumbling Indian actor is mistakenly invited to a Hollywood party, helps wash an elephant in the pool, pees in his pants, falls for a pretty French ingénue/crooner, and utters the immortal phrase "Birdie num-num" with the most perfect Indian accent ever by a white dude.
The Party is politically wrong, except Sellers made a career playing all kinds of nationalities, and I've yet to meet an Indian who felt insulted by the character of Hrundi Bakshi; the character is an idiot, not Indians. Besides, he talked like my uncle, right down to the heavy accent and head movements, and Hrundi is kind of a loveable bonehead. (Note: my uncle is loveable, but not a bonehead.)
Apparently Edwards' next film (and first with Julie Andrews), Darling Lili (1970), was a great big bomb, and Edwards' career went into a tailspin, yet he switched gears and went for more serious pictures that most may never have heard of. There's the western Wild Rovers (1971), and the seething romance between Russian agent Omar Sharif and wounded bird Julie Andrews in The Tamarind Seed (1974), an utterly manipulative weepy whose credibility is heavily augured by John Barry's exquisite main theme and tragic score. (Tamarind is still unavailable on DVD in North America, but it did get a release in the U.K.)
The Return of the Pink Panther in 1975 rekindled the director's career in Hollywood, and he followed up with two sequels before changing gears with the Bo Derek / Dudley Moore comedy 10 (1979), and two of his best films – S.O.B. (1981), and Victor Victoria (1982).
Victoria is a perfect balance of song, satire, and farce, and it was the last solid film of his final years. What was left were meh comedies with TV stars wanting to break into film: John Ritter in Skin Deep (1989), Bruce Willis in the clunky Blind Date (1987) and Sunset (1988), and Howie Mandel in the retched A Fine Mess (1986).
There was a remake of Francois Truffaut's classic leg fetish / stalker / tragic-comedy The Man Who Loved Women (1983) with Burt Reynolds, and the somewhat autobiographical That's Life! in 1986 (which featured another stealth rendition of "Dreamsville"), but by the nineties Edwards didn't seem interested anymore in switching genres, and whether he was bullied of felt the only worthy project was something rooted in nostalgia, Son of the Pink Panther was his last theatrical film in 1993, after which he effectively retired, having made notable contributions to almost every major genre.
Those who loved the Panther series will undoubtedly revisit them. MGM released a set not long ago that gathers the originals, the sequels, the spinoffs, and the horrid features culled from outtakes of Peter Sellers (the ultimate insult of inflating the cadaver of a dead actor with enough air to make easy dirty money), but I'd actually recommend steering away from the obvious and investigating titles you've never heard of, or those you always wanted to see but never got around, in spite of hearing or reading they were quite good.
TCM has scheduled a tribute Dec. 27, but it's a hasty mounting of the major popular hits. However, I wouldn't be surprised if the near future holds a proper tribute, so watch out for Mr. Cory and Tamarind Seed on TCM. Hopefully they'll include other titles that have been out of circulation for years, as that's what their programmers have been adeptly managing for years.
For more info on his writing/directing/producing credits, there's the IMDB, and to peruse what's available on video, there's Amazon.com, Amazon.ca, and Amazon.co.uk.
A complete tally of Henry Mancini/Blake Edwards scores are listed at Soundtrackcollector.com.
.
.
Mark R. Hasan, Editor
KQEK.com
Category: EDITOR'S BLOG