I don't remember the first film I ever saw – most likely it was a Disney film, like Mary Poppins, No Deposit, No Return, or Bambi – but when I asked my father his first motion picture experience, it was King Kong, when he was maybe 10 or something.
That pegs the film's release in India around 1942, which meant either it took a while to reach one of Britain's biggest colonies, or it had enough legs after its first run that it remained a staple film for audiences a good 9 years after its debut in Hollywood (or maybe the theatre manager happened to be a huge fan of the big monkey movie).
The most important element in asking my father a fairly blah question wasn't the answer, but the after-reaction, comprised of a smile and big eyes – a kid in a grown man, remembering an impressive creature and oddball romance between a beauty (man, Fay Wray had legs) and a beast on a big screen, not to mention a giant ape tearing apart a village & rampaging through New York City until a set of biplanes mowed down the mighty creature.
In reviewing Warner Home Video's King Kong Blu-ray, I watched the film once, then rewatched it with the commentary, and then saw clips from the lengthy, multi-part documentary on its making and the dynamic personnel involved in transforming a stop-motion puppet into a living, breathing, caring, raging thing.
When Kong falls from the Empire State building, mortally wounded from the planes' artillery salvos, it was a terribly sad moment because his final seconds of life encompassed a valiant stand against the planes, desperately holding onto its spire, as well as his dignity. The torment was everywhere – his eyes, his bleeding chest, and those weakening arms that were ready to give up their strength – and his tumble was a horrifying thing to see.
Re-watching the scene and clips of the fall, I noticed I had instinctively put my hand forward to block the view, which makes no sense since it wasn't a bloody scene; Kong's tumble to the street below is neither gory or detailed – it's covered in a distant wide shot – but the emotional impact of seeing this amazing character die after being dragged to the Big Apple as a sideshow freak is profound, and it's the chief reason this pioneering creature feature endures, and thrills movie audiences and transfixes special effects whizzes curious of Willis O'Brien's legendary stop-motion animation.
King Kong the movie is a remarkable achievement, but Kong the giant ape is the centerpiece in a film whose special effects and characters were built around his persona, and in spite of two remakes with bigger budgets, the 1933 version is still best.
I've reviewed the BR, and will follow up with two of O'Brien's other giant ape films – The Son of Kong sequel, as well as Mighty Joe Young – but one aspect of the film's history that's worth noting is its premiere at RKO's Roxy Theatre (later renamed The Center Theatre).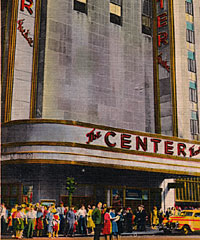 The Roxy opened in 1932, and a year later King Kong premiered in the 3,500 seat movie palace (as well as Radio City Music Hall), and in 1934 it was renamed The Center Theatre and housed live plays, musicals, and ice shows before it was used by NBC for TV broadcasts. When it was clear the theatre wouldn't earn major profits, it was demolished – the only section of the original Rockefeller Center complex to get smacked by the wrecker's ball.
Apparently most images of this majestic Art Deco creation are out of circulation or heavily copyrighted, but a few pictures are available online, giving a good glimpse to the grandeur that was lost. Scarce glimpses are in a news short, a brochure, the mahogany lined foyer, and a hi-res wide shot of the auditorium.
Before checking out the King Kong review, take a peek at this amazing single screen movie palace that lived for a pathetic 21 years. You have to wonder: with all the expense and care that went into designing a giant palace capable of accommodating live venues – pretty versatile – how could it be razed to the ground?
It's almost as tragic as the death of the giant ape, and maybe just as upsetting because the theatre was real.
.
.
Mark R. Hasan, Editor
KQEK.com
Category: FILM MUSIC