Tag: History Channel

Blu-ray review of the History Channel's epic mini-series Hatfields & McCoys (Sony) plus an interview with its Emmy-Nominated co-composer, Tony Morales, and soundtrack album review (Silva Screen).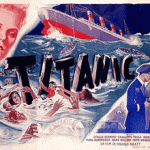 Tired of the Titanic blather? Well, try and squeeze in two more edifying reviews – the 1943 Nazi propaganda film Titanic, and the 2012 History CHannel documentary Nazi Titanic, which chronicles the often absurd and tragic circumstances surrounding the film's production. Also added to the mobile site database are related reviews for Das leben geht weiter, Herr Goebbels' last but unrealized propaganda film; Wort un tat, a crude 1938 Nazi newsreel / ersatz documentary; and reviews of Titanic (1953) and Raise the Titanic (1980). Wait, that's not two reviews… Whoops.