Lectures and Q&As
LECTURE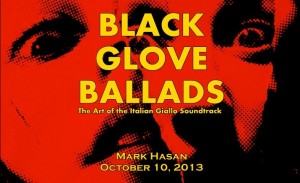 In October of 2013, I was invited by Toronto's The Black Museum to conduct a lecture, "Black Glove Ballads: The Art of the Italian Giallo Soundtrack."
Spanning 1959-2011, the overview of this especially violent Italian variant of the whodunnit murder mystery included specially edited scene extracts, and in many cases newly remixed stereo versions of classic murder montages, often featuring music not used in the final film to support the impact of music within his unique genre.
Prior to the lecture, I also authored a short teaser piece for BloTO, and curated an audio programme featuring music from his favourite scores and material featured in the 2 hour lecture.
"Black Glove Ballads: The Art of the Italian Giallo Soundtrack" enjoyed a positive reception, and the lecture forms the basis of a book-length chronicle of the giallo currently in development.
---
FILM FESTIVAL CONSULTANT & LIVE Q&A
In 2012, I was engaged as a consultant for the Toronto Jewish Film Festival's sidebar series "The Sound of the Movies: Masters of the Film Score."
In addition to editing & mixing themed music montages for presentations, I also served as presenter for two screenings: "American Musical Theatre: Elmer Bernstein" and "Film Music Masters: Jerry Goldsmith" – the latter a rare screening of a 1995 documentary prepared for a limited DVD release in 2005 by my Music from the Movies editor, Paul Place.
I also participated in a post-screening interview with film producer Steven North, regarding his late father, award-winning composer Alex North, and their collaboration on a film version of Michael Jacot's classic novel The Last Butterfly / Poslední motýl (1991).
The complete Q&A is available on YouTube. Special Thanks to the Toronto Jewish Film Festival for permission to archive this Q&A.