Lucid Forge (online / print)
Clinton Shorter
INTERVIEW WITH COMPOSER CLINTON SHORTER
B.C. native Clinton Shorter first met District 9 (2009) writer/director Neill Blomkamp more than seven years ago through a friend working at a computer graphics firm, and after some "chit-chatting," Blomkamp and Shorter hit it off, resulting in the composer scoring several of Blomkamp's commercials, plus Alive in Joburg, the 2005 short film which formed the basis for District 9.
Our conversation in July reflects the composer's unanticipated surprise in being attached to a critically praised and top-grossing film of the summer.
Mark R. Hasan: Did Neill Blomkamp have to fight to get you onto the feature film, because sometimes studios prefer to use a major name composer, whether or not that person is or isn't appropriate for that film?
Clinton Shorter: I don't know exactly to what length he had to fight, because if you look at the reality of it, Peter Jackson gave him a lot of leeway.
Neill's a first-time director; he co-wrote it with Terri Tatchell, his girlfriend, and it was the first screenplay they'd written; [you also have] a first-time actor; the cinematographer is Neill's DP that he used for his commercials and shorts, but he's never shot a feature before…
.
Read the edited version at Lucid Forge, or the full version at KQEK.com.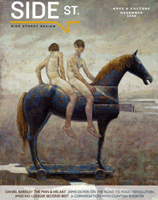 This interview has also appeared in the print issue of  Side Street Review, Volume 2: December 2009, pages 34-36.
.
.
.
---
.
Saul Rubinek
INTERVIEW WITH DIRECTOR SAUL RUBINEK
Actor Saul Rubinek has appeared in major films, including Wall Street (1987), True Romance (1993), Nixon (1995), The Family Man (2000), and had recurring roles on the TV series Frasier (2000) and Blind Justice (2005). His latest work, Warehouse 13, is filming in Toronto for the Sci-Fi Channel.
In 1998, Rubinek stepped behind the camera and directed the black comedy Jerry and Tom. His fourth directorial effort is the indie film Cruel but Necessary (2005), which made its debut on DVD earlier this year via Critical Mass and Anchor Bay/Starz.
A film about obsessions, betrayal, and ultimately healing, Cruel but Necessary is a very clever film shot on digital video from the perspective of its holder, Betty Munson. Whenever she turns on the camera, that's what we see, and little by little we're privy to the end of her marriage to a two-timing husband, her emotional breakdowns, as well as her passionate efforts to raise her son Luke.
Produced by Elinor Reid (Rubinek's wife) and written by star Wendel Meldrum, Cruel but Necessary also feels like an improvised film with naturally neurotic characters and dysfunctional family members, but as you'll learn from our Q&A, Rubinek's film is a meticulously rendered work…
.
Read edited version at Lucid Forge, or the full interview at KQEK.com.
---
.
Maurice Devereaux
INTERVIEW WITH WRITER/DIRECTOR MAURICE DEVEREAUX
In our candid conversation, Maurice Devereaux explains some of the tough decisions indie filmmakers have to make, as well as the importance of maintaining supportive professional associations and friendships with fellow filmmakers
How did you get involved in the film industry?
Maurice Devereaux: I think as a kid, even when I was ten years old, just watching horror movies, reading comic books, and starting to read Starlog and Fangoria, I just knew I wanted to do movies, but not coming from a movies family at all, I was going into it rather blindly. It's basically a love of movies that made me want to do tell stories.
Did you begin by working your way up from the ground up, such as doing editing or cinematography work?
No, I went on the principle that it's better to be captain of your own little ship than to be a deckhand on a big ship. I didn't pitch End of the Line to anyone. I just made it myself.
I've met some other Canadian filmmakers that had gone door-to-door with small amounts from local investors and farmers, sort of what like Sam Raimi did, where he had gotten something like thirty dentists and doctors to put up $10,000 each, but I could not honestly say to someone, 'Hey, if you invent $10,000 in my film, you'll make a lot of money.' I'm not naïve to that side. I'd feel terrible to ask money from people and knowing there's a risk that they wouldn't see it back. If I go down the drain, it's my own fault, and there's no one to pay for it but me…
.
Read edited version at Lucid Forge, or the full interview at KQEK.com.