Music from the Movies
I began my association with Britain's premiere film music journal almost from its inception. Beginning as From Silents to Satellites, John Williams' publication eventually evolved into Music from the Movies, and I continued to write CD reviews, contributed soundtrack producer interviews, book reviews, composer interviews, and a DVD column which, at the time, covered a steady series of DVD releases with composer commentaries and isolated score tracks.
MFTM was later headed by Paul Place (who also produced a detailed documentary on composer Jerry Goldsmith), and spun off into an online edition when the print version folded in 2006. [I've chronicled my involvement with MFTM in a more personal account.]
Some of my selected articles and reviews were recently made available via the revamped site's database. but almost all of my work a Senior Contributor has been integrated into the KQEK.com archives in separate Book Reviews, CD Reviews, and Exclusive Interviews sections. Also archived are my original print and online DVD Columns which ran from 2001-2008.
All other scanned print pieces have been organized into three main sections: Articles and Interviews.
---
SELECTED HIGHLIGHTS  [includes jpeg scans of select print versions] :
Book review of James Wierzbicki's Louis and Bebe Barron's Forbidden Planet, part of an ongoing examination of classic film scores published by Scarecrow Press.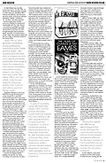 Video Column and Profile [ Parts One + Two ] of Image Entertainment's boxed set, The Films of Charles & Ray Eames, focusing on the scores by Elmer Bernstein, plus the stellar documentary, Shostakovich Against Stalin: The War Symphonies.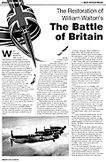 Video Column & Interview [ Parts One + Two + Three ] of "The Restoration of William Walton's Battle of Britain" — a detailed, chronological history of Sir William Walton's rejected score that was released on CD and restored on DVD. Profile includes rare interviews with original Battle of Britain editor Timothy Gee, original recording engineer Eric Tomlinson, and album producer / music supervisor James Fitzpatrick.