Rue Morgue magazine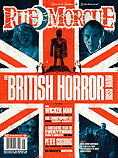 Rue Morgue magazine is the pre-eminent publication on horror in contemporary culture.
I've divided my ongoing contributions – archived as JPEG scans – into three sections: Blu-ray + DVD Reviews, Essays, Interviews, and Soundtrack Reviews. In a few rare cases, articles or interviews were expanded into much longer forms at KQEK.com, and I've provided both links to the print and longer online versions.
---
LATEST:    BLU-RAY + DVD REVIEWS | ESSAY | INTERVIEW | SOUNDTRACK REVIEWS
---
SELECTED HIGHLIGHTS  [jpeg scans of print versions] :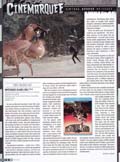 DVD Review of Mysterious Island, Ray Harryhausen's classic 1961 adaptation of Jules Verne's classic novel. Released on Blu-ray by Twilight Time.
Essay "The Psychology of Strings" [ Parts One and Two ] – An appreciation of Bernard Herrmann's landmark all-string score for Alfred Hitchcock's Psycho, fifty years strong and still terrifying.
Featuring comments by composers John Frizzell, Michael Wandmacher, Austin Wintory, and Christopher Young.
Additional comments were integrated in a follow-up blog at Rue Morgue.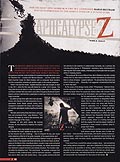 Interview with composer Marco Beltrami regarding his epic score for the vampire film World War Z.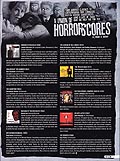 Soundtrack review and overview: "A Union of Horror Scores: From Hammer Classics to Contemporary Skin Crawlers, We Pick the Top Ten British Horror Soundtracks".
---
In need of a specialty media writer, or a versatile consultant? Send specific questions via email ("multimedia" " services" "at" "mondomark" "dot" "com").