KQEK.com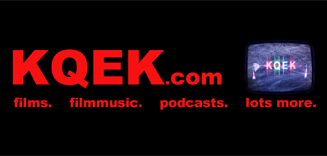 KQEK.com is designed to be a useful resource for the avid film fan, with original content and convenient links to diverse sites, possessing, in various levels, related or complimentary content. 
Using the classic 1957 film Boy on a Dolphin as an example, every film and DVD review is linked to the IMDB (see External Reviews section, left sidebar), as well as the Movie Review Query Engine (MRQE – see page bottom), and most reviews contain additional links to fan sites, director sites, official film websites, and composer info.
Select reviews are cross-linked to soundtrack reviews at KQEK.com, as well as composer interviews, and each soundtrack review is referenced at Soundtrackcollector.com (see right column), a massive online database of every soundtrack released on planet Earth.
Additionally, some material from my writings for Music from the Movies (print + web editions) has been expanded and incorporated into KQEK.com, as well as the archives from Toldyouso.net, a DVD review site established by Kyle Milligan and Chris Tinglin, to which I was a senior contributor from 2001 to its closing in 2005.
Sections within KQEK.com:
– BOOKS ON FILM (search by Author / search by Title)
– DVD AND FILM REVIEWS (search by Title)
– CD / LP / MP3 SOUNTRACK REVIEWS (search by Title)
– EXCLUSIVE INTERVIEWS AND PROFILES (search by Category + Name)
– PODCASTS (search iTunes / Libsyn /SoundCloud / YouTube channels)
– ISOLATED SCORES ON BLU-RAY, DVD, AND LASERDISC (search by Title)
---
---
In need of a specialty media writer, or a versatile consultant? Send specific questions via email ("multimedia" " services" "at" "mondomark" "dot" "com").