Rue Morgue / Essays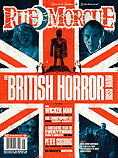 Once in a while I'm allowed by RM's editing team to examine a particular topic at length, and writing about Psycho was a real treat. I've added additional links to related composer interviews, podcasts, and follow-up blog at RM's website.
---
Essay "The Psychology of Strings" [ Parts One and Two ] – An appreciation of Bernard Herrmann's landmark all-string score for Alfred Hitchcock's Psycho, fifty years strong and still terrifying.
Featuring comments by composers John Frizzell, Michael Wandmacher, Austin Wintory, and Christopher Young.
Additional comments were integrated in a follow-up blog at Rue Morgue.