Film Score Monthly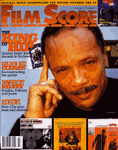 Film Score Monthly (or FSM) remains the longest-running and most successful publication on film music. Beginning as a pamphlet in 1991 and emerging as a magazine in 1992, FSM ceased publishing its print edition in 2005, and re-emerged as a subscription online magazine.
Mark's contributions have been divided into Interviews and Profiles & Retrospectives. Each link will load a jpeg (or in some cases PDF) file.
---
SELECTED HIGHLIGHTS  [jpeg scans of print versions] :
Interview [ Parts One + Two + Three ] with composer Michael Giacchino regarding his breakthrough score for The Incredibles.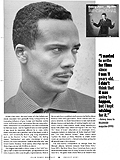 Profile [ Parts One + Two + Three + Four + Five + Six + Seven] of composer / music & film & TV producer / label executive & CEO Quincy Jones in "The King Of Hip Part II: 1968-2001".
---
In need of a specialty media writer, or a versatile consultant? Send specific questions via email ("multimedia" " services" "at" "mondomark" "dot" "com").