Imran Ahmad: Composing Music for The Dead (2010)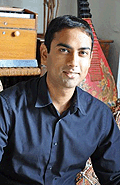 This one's a quickie as I'm between screenings: uploaded is an interview with British-based Imran Ahmad [M], the composer who provided the rich score for the Ford Bros.' African-set zombie film The Dead [M] (2010).
Coming shortly: capsule review of Despite the Gods (2012) playing at HotDocs, plus more!
.
.
Mark R. Hasan, Editor
KQEK.com ( Main Site / Mobile Site )
Leave a Response